Solar Moon String Lights Romantic Night, Outdoor Party Garden Wedding Decoration Lights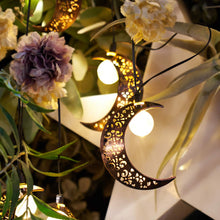 Solar Moon String Lights Romantic Night, Outdoor Party Garden Wedding Decoration Lights
The moon is the tender , the tender is the night, why not share these meaningful moon string lights with your family, friends, enjoy the tender night and your timeless happyness!

Total length: 13Ft;
Length between 2 moon: 3.9in;
The length between the plug and the first LED( lead cable) 6.5ft(78 inch);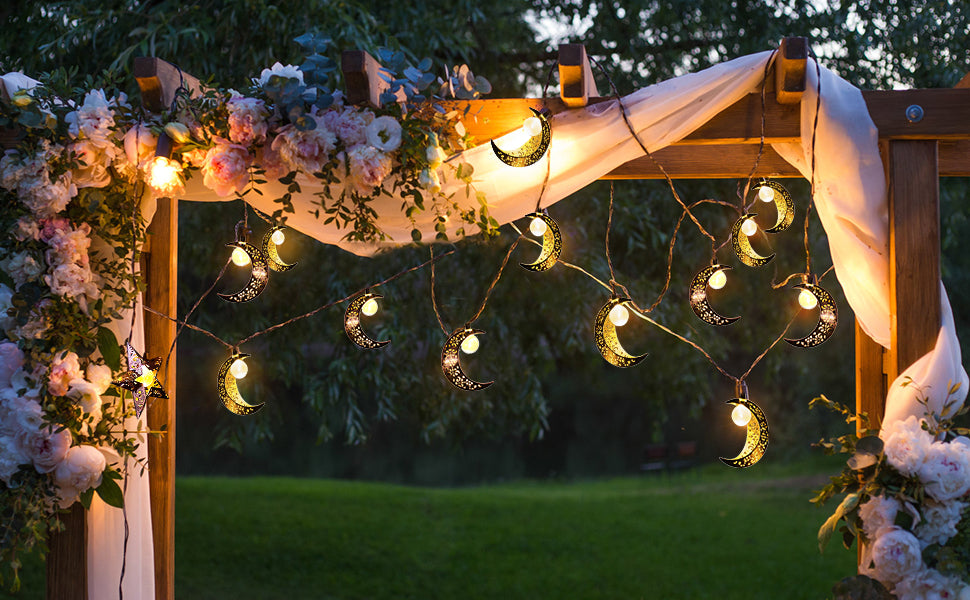 The Conception that We Design Moon String Lights?
The moon can always carry our infinite imagination, she is quite meaningful and symbolic
You know the moon has a symbolic meaning in culture, they mean women's beauty, reproduction and life, love and marriage , harvest and perfection. The moon clustered around by all her starry fays , so that she has become synonymous with a beautiful woman, as well she is a protector of women and babies, she alleviate the suffering of their birth.The moon is the tender , the tender is the night, why not share these meaningful moon string lights with your family, friends, enjoy the tender night and your timeless happyness!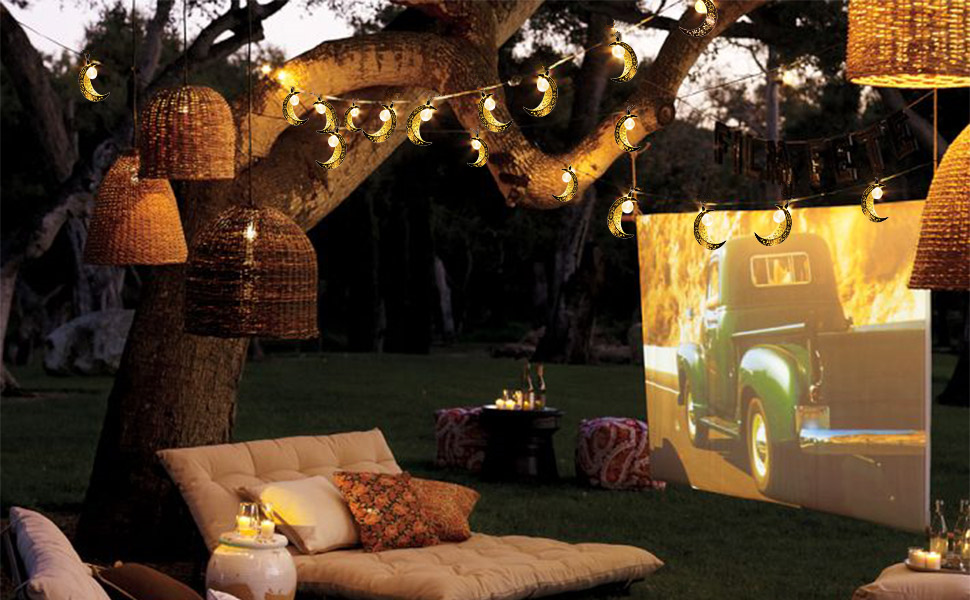 Clear Moon Shape Design--Make your Garden Different with Other's
Add a fairy touch to your garden & patio in just minutes with these Solar Powered Moon String Lights

The design of the Solar String Lights is really flexible and useful, making your holiday a sparkling one, totally different from the past

Solar Moon Fairy lights are just what you need to make your home get the attention of admirers

Whether it is for a festive or romantic mood, or just to bring a cheerful feel to your home, these outdoor string lights are the best choose for you
Light color: 9 Pcs Warm White Lights;
Solar Powered Rechargeable Ni-MH Battery;
Working Time: Steady on mode 8-12 hours; Flashing modes 10-14 hours;
Lighting Mode: Constant ON / Flashin;
Solar panel with ground stake for easy positionin;
Total length: 13Ft;
Length between 2 moon: 3.9in;
The length between the plug and the first LED( lead cable) 6.5ft(78 inch);
Put on wall, window, door, floor, ceiling, grass, Christmas tree, post or building
| | |
| --- | --- |
| Type: | |
| Vendor: | |
| SKU: | TKCDY2045 |
| Weight: | 0.5 kg |
Follow fb page for more garden ideas