Vintage White Angel Moon Star Hollow Out Solar Lamp,Outdoor Wall Hanging Lights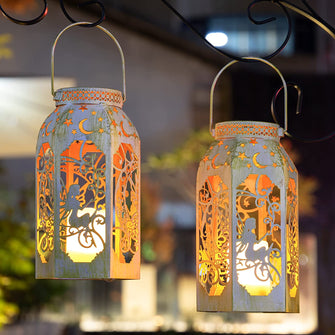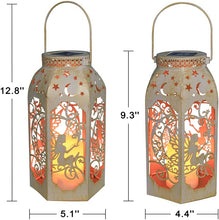 Vintage White Angel Moon Star Hollow Out Solar Lamp,Outdoor Wall Hanging Lights
The outdoor solar lights feature beautiful elf fairies, with lucky moon and star patterns, creating a festive and elegant atmosphere for your venue.
Package Including: 1 x Solar Lantern Lights
Size:‎about 5.11 x 4.9 x 9.25 inches
Star Moon Fairy Solar Lantern
The pure white body of the moon carries many romantic fairy tales. The mysterious moonlight is combined with the stars, and the pure and beautiful fairy guards you.
Decorative lanterns can be hung on trees, pergola, table tops, windowsills, gardens, patios, sidewalks. The lovely fairy solar lights in your garden will give off a gorgeous glow and a beautiful star and moon pattern when lit, making your yard and garden fun and happy.
Warm tips:
Make sure to turn the switch to "ON" before getting charged in the sunny place.
For optimum performance it is suggested to fully charge the lantern for 10-12 hours in the direct sunlight before first-time use.
Charging efficiency depends on the geographical location, weather conditions and seasonal light availability. Insufficient sunlight or time to charge may obviously effect the working time and status of the solar lantern.
The surface of the lantern is deliberately designed as an ancient effect.
Follow fb page for more garden ideas